A must-see for gays! A beach that only gays can enter!
I've lived in Cairns for 18 years and went there for the first time. Tarkoup Beach.
This is Australia's only beach exclusively for lesbian, gay, bisexual, transgender and intersex people.
No one else can enter.
I thought I would just talk to the person in charge, so I decided to go after confirming by phone.
Everywhere at the entrance there is a rainbow flag that symbolizes gays.

There were about 3 number plates of cars from Sydney and other cities in the parking lot.
You also drive from other cities.
It is a popular place known to those in the know.
As soon as I parked my car in the parking lot, the person in charge came to me and
"What's wrong?" He kindly asked me.
I was kind and kind, and when I told the person in charge why I came, he was very welcomed.
First, here is the entrance.
There was also a reception soon.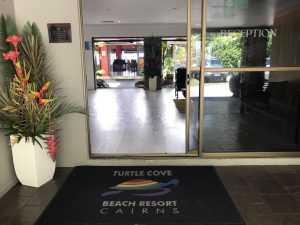 The lobby looks like this.
It's small, but for some reason it's a comfortable space.

After passing through the lobby, you will find a bar and a restaurant. Here too, there is a sense of fashion and openness.
There is no doubt that you can relax.

After passing through the bar, you will see the beach in front of you.
There were rainbow flags everywhere, symbolizing homosexuality.
The beach is really beautiful.
It's great for beach weddings.
And it is possible to get off at the beach here by helicopter.
Helicopter entrance at a wedding is also novel.

And there is a large lawn garden.
You can also do a garden wedding here.

In addition, the facility has a gym, a pool, beach volleyball, etc.
There is no doubt that you can really relax here.

A space that is hard to find in Japan, where only gay people (LGBTI) can relax and gather.
I highly recommend it.
Recommended articles for you