Advantages and disadvantages of carry-on photographers
Recently, there are many people from children to adults using Instagram.
In a certain article (I'm sorry I don't remember which article I read. It's a pity that I can't introduce it in the form of a quote because I read too many articles)
One in two brides are watching Instagram, and it seems that there are more # pre-bride than # pancakes when it comes to hashtags.
Use Instagram instead of searching to find your favorite things and people.
People who have a lot of Instagram followers called influencers can get hundreds of thousands of money just by posting photos,
If you get an Instagram-like, you will get money for one like.
As a promotional shoot, you can travel all over the country, or even anywhere in the world, with all your travel expenses paid.
A new type of work is being born in a new era.
Since Instagram is a SNS that focuses on photography, Instagram is a great opportunity for photographers to show themselves well and show their skills. I think that the way you show it will increase the range of work you can do.
The photographer can understand the taste of the wedding photograph by posting his own photograph.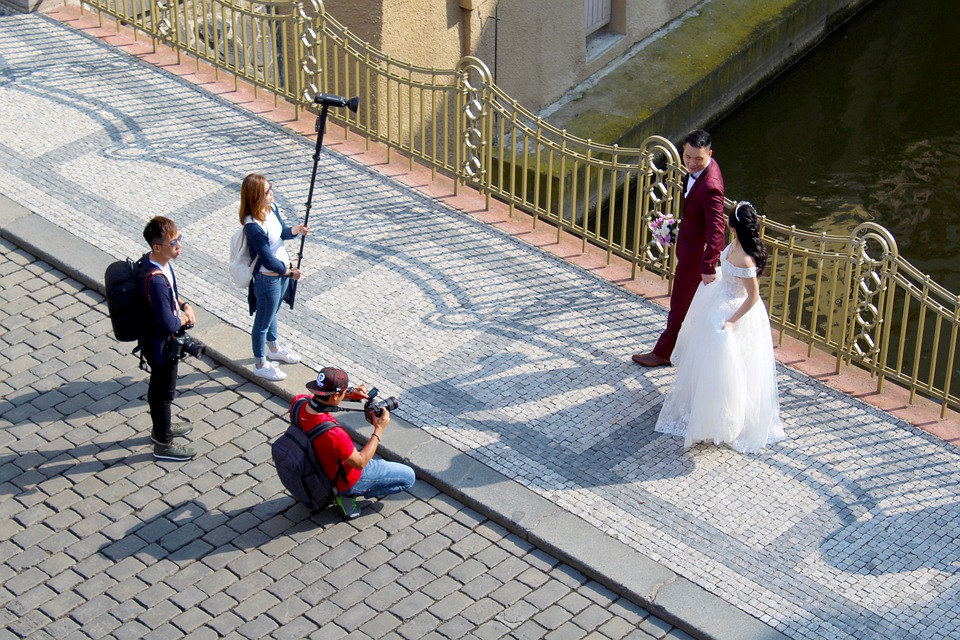 So, I would like to talk about the advantages and disadvantages of carry-on photographers.
Benefits of carry-on photographers
Photo of your choice
You can see at a glance what kind of taste the photographer has already taken and processed on Instagram.
Some couples may want their own photographer to take a once-in-a-lifetime wedding photo.
Therefore, if you are a carry-on cameraman, you will choose a cameraman yourself and have him take a picture.
You can have them take a picture that suits your taste.
That is probably the biggest merit.
Cheap price
The price that the carry-on photographer directly presents to the customer is the amount that is not added, so it should be possible to present it to the customer cheaply.
Wedding planners and wedding venues are basically priced so that they receive 10% to 20% of the total amount of wedding fees and options. (Percentages vary by company.)
Therefore, the amount of money that the carry-on photographer directly presents to the customer depends on the photographer, but isn't it relatively cheap?
Regarding freelance wedding planners, depending on the planner, I get a wedding production fee and work.
How to set the price of the planner depends on the free wedding planner.
Produced by an average wedding planner
It is said that the average wedding planner's wedding total production fee is 200,000 to 300,000 yen. This is not limited to Japanese freelance wedding planners who are active in Japan, but Australian wedding planners have similar prices for wedding production of Australian couples.
Regarding Japanese freelance wedding planners, wedding planners who have a background in dealing with entertainers are priced at least 500,000 yen.
As the initial counseling fee, the hourly consultation fee is 5,000 to 10,000 yen or more, and the production fee is added to the money for the wedding itself.
However, at the momentCairns weddingThen, I would like you to feel closer to overseas weddings more easily, so especiallyWe do not charge a total production fee or consultation fee.
We would like to do our best to make overseas weddings more accessible.
Disadvantages of carry-on photographers
Not accustomed to the wedding venue
Especially for photographers from other cities, it may take some time to move, take a photo angle, or pose a couple because they are not accustomed to the wedding venue or do not understand the situation.
Cannot work in collaboration with staff involved in the wedding
If you are a carry-on photographer, there is also a pattern of "Nice to meet you" with the staff involved in the wedding.
If you do so, you may not be able to do collaborative work well, such as being unfriendly or being too careful.
Advantages and disadvantages of carry-on photographers.
Either way, your important wedding.
To your satisfaction, welcome your original wedding in Cairns, Australia.
Recommended articles for you