There is an overseas wedding that the pre-bride does not know ① Hair and makeup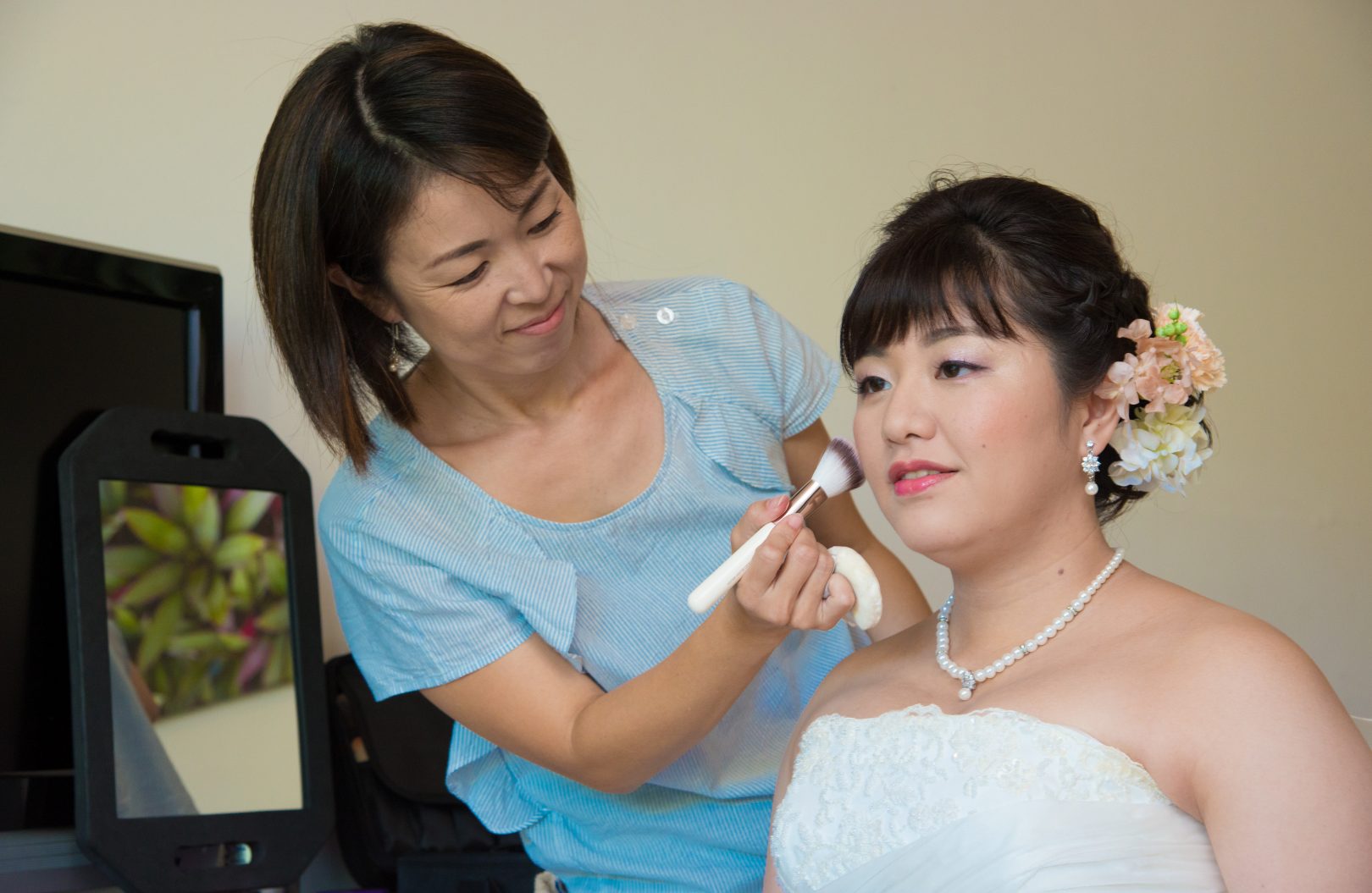 Guests gather in the couple's room during the bride's hair and makeup
There are overseas hotels, but in many cases the hotel where the guest stays is close to the couple, or the room is close to the same hotel.
We are instructing guests to be seated at the venue 20 minutes before the wedding starts, but before that, some guests (family members) come to see the state of preparation in the couple's room. welcome.
You can have a greeting battle between guests, or you can come to see how the bride is being prepared with a simple interest. Some couples may be happy to talk to the guests before the wedding, but they talk too much and the precious time of preparation time passes in a blink of an eye, even 20 minutes before the wedding. There are many guests who do not want to stand by at the venue.
Even if you tell them "Please go to the venue soon", the guests tend to be fluttering just before "I want to go to the bathroom" and "What should I do with my luggage?"
After the bride's hair and makeup is finished, she goes to the bathroom before changing into a dress, but sometimes the nightmare of guests lining up in the bathroom of the couple's room may occur. Both guests and couples are waiting for the toilet (laughs), which is an unlaughable situation.
If possible, have fun chatting and having fun at the party after the wedding, and when preparing, please concentrate on the couple.
You can arrange even short hair
Even if it is short, you can make various changes. You can also add wigs, change the texture, and create an image with hair color.
Also, I think it's okay to add volume to flower hair ornaments and earrings such as plumeria because it is an overseas wedding. Or bring a wig and you can adjust it. You cannot easily buy wigs locally, so please bring them in advance.
Those who have undergone partial facial surgery
For the wedding ceremony, there are some people who have hyaluronic acid in their tear bags or have been double-shaped. I think that hair and makeup artists are afraid to touch it after the operation, so please allow plenty of healing time after the operation and allow as much as possible.
Those who want small face makeup
After coming to the site, we recommend that the hair and makeup artist on the day of the wedding do a hair and makeup rehearsal the day before.
There are people who often want a shading method (creating shadows to create a small face effect) in magazines, etc., but by adding highlights, you can make your face look smaller without adding dark shading. So, please consult with a local hair and makeup artist. Again, if you're worried, we recommend rehearsals.
Finishing after makeup
Normally, after hair and makeup, you should wash your hands before changing into a dress. At that time, if you are thirsty, you can drink water. If you have a straw, it is difficult to remove the lipstick if you drink it with a straw. Please be assured that if you make a reservation with Make-san with the wedding ceremony, the lipstick will be reapplied before and after the wedding ceremony. However, please brush your teeth before making up.
Bangs set
Bridal hair and makeup artists basically do not use scissors. It will cut your eyebrows, but it won't cut your bangs. Therefore, it seems that some brides think that they will cut and trim their bangs while having their hair and makeup done with half-length bangs, but that is not possible, so bangs are just right in Japan in advance. Please cut it to length.
Earrings
Some people who haven't opened their earrings buy extra-large earrings for their wedding. The weight often hurts during the wedding. If you only have big earrings, it may not last until the end, so if you wear large earrings during the wedding ceremony, small shooting, and medium-sized earrings at the party, it will not hurt and you will not be able to wear them. think.
Groom hair and makeup
Some people are wondering whether to apply groom hair and makeup as an option. I recommend the groom's hair and makeup because it's a big deal, but there are some people who can't put it on because of their budget. It's okay because the bride will do as much as the groom's hair and makeup! Some brides apply their own BB cream to the groom, but in some cases it is better not to apply it strangely.
Recommended articles for you