Kewarra Beach Resort, Australia's leading beach resort, surrounded by the Great Barrier Reef, a World Heritage Site
It is a resort with an atmosphere that harmonizes with the natural nature and nestles in nature.

Here, a luxurious beach wedding that blends into the magnificent location of nature is realized.
Why don't you have a wedding in a hideaway place that is not so touristy and loved by locals?
Ceremony
If you swear your love toward the ocean as far as you can see in the shining white sand, you will be surrounded by deep joy and excitement that cannot be expressed in words.
Location
Party and commemorative photos on the beach surrounded by palm trees are also OK.
For a memorable time with a perfect tropical mood.
It is also recommended to stay with your family and guests and enjoy nature in a relaxed manner.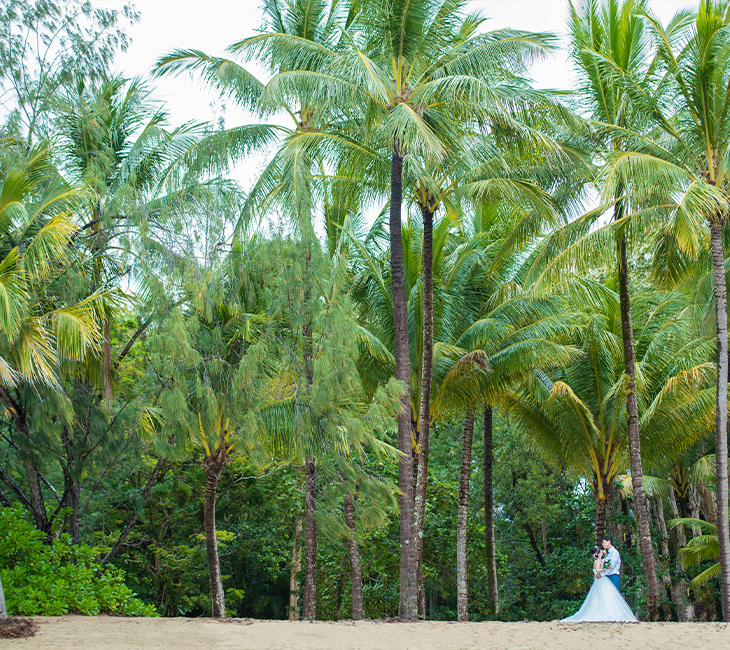 Price Info
Price information
Normal Plan
¥ / 為替相場によって変動$2600
Marriage certificate (no legal effect)
White table and chairs when filling out a marriage certificate
Silk bouquet & Boutonnière
Buggy assist near the beach (only if needed)
CD / ipod music
Ring pillow (rental)
Permission to shoot around the resort after the wedding
The price might be changed when the busy season.
Please feel free to contact us.
Information
access

About 30 minutes by car from Cairns

Seating capacity

About 14 people

Virgin road length

About 12m

Wedding words

English, Japanese

musics

CD music

Non-departure day

-

Remarks

・ We can also handle garden weddings
・ We recommend staying at Kewara Resort Beach for a minimum of 2 nights the day before and on the day of the wedding.
・ We will arrange accommodation separately for the desired number of days.
・ You can apply for this package as soon as you can secure a reservation for the accommodation.
How to Contact
Please feel free to ask the qoutes
You can contact us in Japanese and in English.
Contact us with Skype, Line, instagram, and email.